LinkedIn boasts over 161 million users across over 200 countries: it's the biggest source of candidates imaginable, and there's little question why it's the first bookmark in the browsers of most recruiters. Connecting with the right candidates isn't easy though. If you've ever found yourself asking, "He's perfect for this role – why won't he connect with me?"
1. Reach 100% profile completion.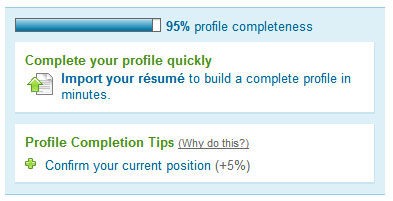 You've found a great candidate and you read their profile from top to bottom. Now they're going to do the same to yours - and if it doesn't give them a comprehensive understanding of who you are and what you do, why connect with you when there are other recruiters who make a better impression?
LinkedIn gives you step-by-step instructions on how to complete your profile and it'll warn you if your profile is incomplete. If you're seeing that warning, set aside some time to address it before you attempt to make any connections.
2. Build a network of over 250 connections.
It's not going to happen overnight, but if you're relatively new to LinkedIn then try to add as many of your professional and personal connections as possible before contacting potential candidates. Why? A small network rings alarm bells to a candidate: who is this guy? Is it a scam? Do I want to reveal to him that I'm not happy in my current job? Trust is vital here, and we're naturally more inclined to trust someone that we see other people have trusted.
Once you've connected with your colleagues, ex-colleagues, friends and family, start targeting other candidates in the industry you're recruiting for. Your connections reflect your credibility: the more you have within your target candidates' industry, the more likely he is to listen to what you have to offer.
3. Tailor your heading.
You're an experienced IT professional, and two recruiters send you a connection requests on LinkedIn: one calling himself Recruitment Consultant and another calling himself IT Recruitment Consultant. Which interests you most at a glance?
Remember that you can change your heading as often as you like, so if you're sourcing for an IT company this week and a media company the next, there's no reason why you can't change your heading to reflect that.

4. Delete the standard, "I'd like to add you to my professional network" message.
Don't even think about sending a connection request with the generic, "I'd like to add you to my professional network" message – it's the digital equivalent of those automated, robotic cold calls that have you slamming down the phone faster than they can say, "PPI claim". Delete that standard message for every single connection request you initiate. It may be quick and easy, but it will only yield responses from the least discerning candidates.
5. Draft a personalised message.
Replace that generic connection request with something personalised, including a piece of information from their LinkedIn profile, the name of a mutual contact, or something from a Google search. Remember that the best candidates receive messages from recruiters every day; the only way to stand out from the crowd and grab their attention is to get personal. It takes slightly longer, but your effort will be rewarded with a higher connection success rate